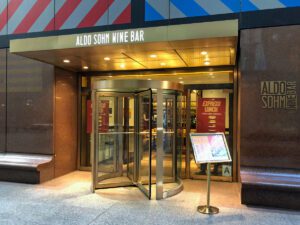 I feel like this is at least the second wine bar I've reviewed in the past couple months. And that, in any real world, would be two too many. Because that's just not who I am? Well, no, I am a flesh-and-blood adult, but I am not one to generally drink the god's grape without something else food-like going into my stomach. That's my long-winded way of saying that I will drink wine with dinner, but am rarely seen ordering a glass of wine just to, you know, drink.
And, honestly, if I were to choose a joint in which to imbibe, I wouldn't choose one that looks like the lobby of a reasonably upscale, but generic, hotel in Kansas City. Of course I've never been to The City of Fountains (which is a terrible nickname), and I'm sure it's a lovely place, but when I think about a wine bar, I think warm woods, rustic interiors and lighting that, again, doesn't feel like a public space in a midwestern sleeping establishment.
It's not as though Aldo Sohm Wine Bar isn't comfortable, with its clean lines, colorful artwork and a couch arrangement that I'm not sure I've seen anyone sit at, but in my two visits (I know, but it's really convenient to my office and someone else was paying), sitting first at a high table and then in the "tasting room," it all felt a little bit too formal and too clean. Just a little too antiseptic and lacking personality. So, you say, shut the fuck up about the space and tell us about the wine!
Thing is, I really don't know much about wine. I took wine tasting in college back in the stone age and have listened to people for years try to school me, but I just have trouble retaining info like soil density and old vine versus new vine and if I'm supposed to like or hate those damned tannins. Tannins! I kind of know what I like and what I don't like, but other than that I don't think I could tell the difference between a $20 bottle and a $120 bottle. Or maybe I could, but I don't think I've ever bought a $120 bottle of wine except maybe at Ventana in Cali and Picholine (and that was the cheapest bottle on the menu and it was godawful). But the reason we came here is because one of my co-workers is an oenophile and swears by this place. Plus, like I mentioned, it's practically in my office building.
So, it turns out I can drink wine without food and manage t0 enjoy myself. I ordered a tempranillo from the by-the-glass list that is made up of like ten reds and ten whites averaging about nineteen or twenty bucks a glass. I found that to be on the pricey side, but it's not surprising for a fancier bar in midtown that is associated with Le Bernardin. On our second trip, Spendy McSpendsalot got one of those slabs of cured meats and cheeses. I don't fuck with pig parts, but the Murray's cheese selections are always awesome with vino (or beer or whiskey for that matter). I was told the ham was tasty and I'll just have to take their word for it.
Ultimately, this ain't a bad place to come with a corporate card or a rich friend. The sommeliers are very nice and will give you samples of stuff when you ask for them. They take their wine seriously, which is definitely not a bad thing when going to a bar that specializes in that thing. They're knowledgable, and you would hardly embarrass an out-of-town guest if you were to take her here and plunk down a few bucks to seem like you too are in the know. It seems like one of those good joints to hit up with a business contact or for one glass before going to a fancy-pants dinner or a long trek over to the theater district to take in one of those play things that I hear people like.
---
151 W 51st St. (bet 6th & 7th Ave.)
(212) 554-1143
aldosohmwinebar.com
---