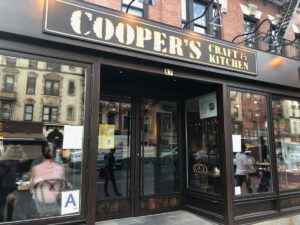 It's only in recent years that I learned about what the heck a "cooper" is. And now I can bestow that knowledge on you: it's a dude who hijacks a plane and then jumps out of said plane with a suitcase full of ransom money, never to be seen again. Obviously the perfect human being to name a bar after. With that, I was a little confused with the kind of barrel and cask theme and how that relates to the the skyjacker thing. EDIT: Apparently I am an idiot and a "cooper" is a maker of casks and barrels. This is something I actually did learn at the Guinness Factory tour in Dublin not too long ago, but, to be fair, I was really drunk and all I could picture when hearing the name Cooper is Treat Williams jumping out of an airplane trailed by a briefcase of cash in some movie from my childhood.
With my confusion and stupidity out of the way, I'll cut to the chase. This place serves beer. There are 25 brews on tap, none of which are Miller Lite or Budweiser or one of those disgusting ciders. The only kind of traditional, mainstream thing on the menu that I recall is Guinness, which is just fine. In fact, a bunch of the beers are New York breweries (including the Barrier Brewing Co. Greenroom Pale Ale below) which is always a cool thing to do. The bar/restaurant itself is super-heavy on the wood features, including chairs and tables, floors, ceilings, beams and just about anything and everything in the joint. It's like a flammable den of termite joyousness. And particularly masculine in its pub-like approach to comfort. And it has the hand-written beer chalkboards, which just brings a warmth to my heart in a way no plastic-ass menu can. The exterior, with its kind of 70s-style atrium thing, belies what's going on inside, so don't let it turn you off with its clunkiness.
I was here at a particular point in the afternoon when food wasn't something I needed, but the menu looks to involve basically anything and everything to satisfy an audience of both picky (i.e. children) and those with more humble tastes. It's made up of bar food, American comfort food and some "foreign" stuff like shishito peppers, tacos and poutine (which I've never really understood). They also have wings and burgers and all that kind of stuff, too, so you have your bases covered. The photos look decent, and I think I smelled some truffle fries when I was in there, so I wouldn't shy away from bringing a group of four or six here and settling in for an evening of grub and beer.
---
87 2nd Ave (at E 5th St)
646/606-2384
coopersnyc.com
---