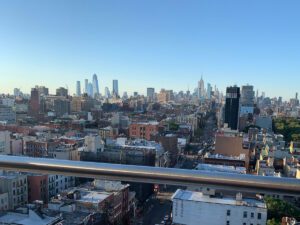 There is nothing like reviewing a rooftop bar in the dead of winter. Honestly, it's like torture looking back at these sunny pictures of a city that is bathed in daylight and not swathed in darkness at 4 PM. But that's how I roll.
Now, is Rooftop93 the most popular rooftop bar in a city full of rooftop bars? Absolutely not. It's an outdoor space carved out a small perch on the top floor of a kind of junky Wyndham Garden hotel in Chinatown. Not junky as in like intravenous drug users, but like a mid-tier chain hotel that has the aesthetic of a European subway station in an Ikea.
We stood outside to enjoy the lovely day, though I believe there's an interior bar one floor down. The crowd was an oddball mix of Asian locals, Asian non-locals and a bunch of blonde people who were most likely serendipitously staying in or around the hotel and have Google. The beer list is meager (Brooklyn IPA being the most "out there" brew they stock) and is shockingly expensive at nine bucks a pop for a bottle or can poured into a plastic cup, but I suppose you're paying for the view. They look to have "cocktails," but the bar, such as it is up on in the small space, was perfunctory and definitely didn't feel like a place you were going to drop $18 on a Manhattan. Let alone partake in their $300 a bottle bottle service. It just ain't that classy a place.
But, what is classy is the view. It's honestly pretty fucking great. Honestly, probably one of the best rooftop views I've seen in the city. Not like standing in the crow's nest tower of the Woolworth Building back in pre-2001 (though there were no drinks and I had my back plastered to the turret) but it really gives you an amazing sense of the city, but without being surrounded by it. In other words, there are midtown rooftops, which kind of put you in the middle of other rooftops. It's a different experience. This bar, being downtown, but not all the way downtown, gives you a really cool vista to enjoy as you look north into the distance at the canyon of skyscrapers. And then you can swing around and see the other giant buildings in downtown. Again, it helped that we were there on a perfect day with a beautiful sunset and what turned out to be very friendly tourists.
Are you gonna go here to be "seen?" Nope. But you're also not going to wait in some obnoxious line and deal with shot girls and micro-minis and whatever the 2020 version of those A Night at the Roxbury guys are. I don't recall the music being super-awesome, or really if there was any music at all (though I always imagine it's some sort of hotel-approved Euro new age shit or lots of Crystal Waters covers in French) but the experience, other than the expensive, not great, booze, was a very positive one. It's small and relatively bare bones, but that doesn't matter when you get to take in sights like these.
---
93 Bowery (at Hester St.)
212/966-9033
rooftop93.com
---