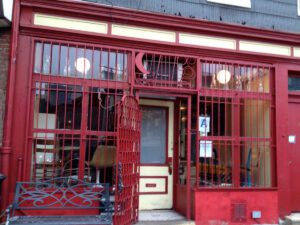 It's like a party at your friend's shitty borough apartment. Because it's a bar in a shitty borough apartment. No, this bar is literally housed in what I assume must have been a railroad flat in Williamsburg, but soaked with many years of beer and cigarettes. I'm also uncertain if they've paid their power bill, as there's definitely a gloom inside the bar that pervades even during daylight hours. I suppose that's also a matter of the railroad construct, meaning that there are windows up front, but nothing else illuminating the joint otherwise. I mean, there are some lights, but they're mostly there to keep the patrons from banging into each other. The blood-red, tin ceiling also adds to the vampiric, cave-like feel.
But — and this is the major but — once you make your way through the skinny bar and past the insane chalk board filled with what seems like a million unpronounceable Belgian beers, you exit a back door into a really nice outdoor garden space that makes up for everything that's come before. It's not as if they intentionally bury the lede, but it's not at all obvious this lovely, secret garden exists when entering or traversing the main space. Smallish and surrounded by a high brick, ivy-covered wall and rockin' casual, mismatched furniture, you'll hardly remember that you're in the middle of Brooklyn. Yes, be ready to be transported back to like Queens or Staten Island or maybe even a backyard in a relatively run down part of Jersey City or Newark. But, seriously, it's very nice on a warm evening.
So, if you're looking for something that certainly feels authentic and weathered, this is the beer garden for you. You may want to bring a laser pointer in order to circle your brew choice on the chaotic board rather than attempting to decipher the indecipherable names and just pray that a dunkel doesn't taste as bad as it sounds.
---
359 Metropolitan Ave, Brooklyn (at Havemeyer St.)
718/963-4140
---