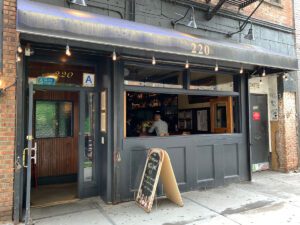 I'm wondering if a celebration of Brooklyn culture is really needed in this day and age? And I'm not talking the 1910 days of Grandpa Hipster's Williamsburg, but like Brooklyn circa 2010, the year this joint opened. Seriously, though, who needed a Brooklyn themed restaurant/bar in 2010? I think we were pretty aware of that very large borough ten years ago. And are way aware of it now.
So, putting aside the silliness of a British person opening a bar to celebrate what is now an overly-hyped smattering of trendy neighborhoods, does this place satisfy just your average Manhattanite? I mean, sure. It's actually a pretty pleasant after-work spot. Its vaguely industrial wood and iron, rustic interior conforms to that 2010s look that says both "We hired a hip interior designer to make sure we're authentically representing Brooklyn's true aesthetic" and "We're casual and throw-offy in a 90s Crate & Barrel kind of way. We're not try-hards"
What it creates is a mellow, if not slightly uncomfortable, grouping of wooden booths and these kind of geometrically cut high tables fused to a side wall with stools. They clearly went out of their way to try to maximize all the bar's usable space, but there's a semi-awkwardness to the setup. Including this oddball deck-like space at the back of the place that feels like perhaps it should have a hot tub or like some chaise lounges on it. In fact, maybe if they ever do a remodel… But I suppose that wouldn't follow their Brooklyn theme.
Anyhow, this joint does get pretty crowded at times, but if you can get your small group of folks ensconced in one of the few booths early enough after work, you could be in for a decent evening. Otherwise, it's not a bad place to stop in for a drink or two. It's not going to blow your socks off or anything, but their smallish menu of around 15 NY beers on draft could be worse (and, don't worry, you can still get your Bud Light swill in a bottle) and the lighting won't give away that zit you spent your day trying to hide from your co-workers. I didn't eat any of the food here, but it sounds appropriately bar-like — with sliders, hot dogs, a few sandwiches and some bar snacks – but their claim of a "gastropub" stretches credulity. Though I call myself a "hipster," so I guess anyone can be anything they decide to call themselves until someone calls bullshit.
---
220 W Houston St. (at Varick St.)
646/692-4911
brooklyneer.com
---