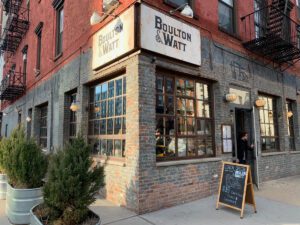 The last time I was in this space it was an awful mish-mash sports dive bar called Nice Guy Eddie's. We spent an embarrassing number of hours in that joint way back in the day when cigarettes with open flame were still a thing. Needless to say, Boulton & Watt is a huge upgrade both in terms of style and cleanliness. As a full-fledged adult man, this gastropub feels like a place built for a full-fledged man like myself. I mean there is nothing more butch and manly than an industrial revolution themed restaurant. Amiright, gentlemen?
The thing is, it totally worked on me. Lots of wood, iron and exposed brick is pretty much the way to any man's heart. There's something in that style that inspires drinking — or fighting. But mostly drinking. But not for too long, because this time period was not known for its high comfort factor. There are no overstuffed chairs by a roaring fire or luxurious velvets. Or tufting of any sort. In fact, your seats are small wooden and metal stools bolted to the cement-slab floor. The artwork is mostly austere photographs of oldey-timey machinery. They really went for it.
That all said, the lighting is really nice, the small list of around nine beers on tap is relatively considered and the food looks to be slightly upscale comfort pub food. I suppose that's what makes it a gastropub instead of just a "bar." Anyhow, I appreciate the effort put into the look and feel of the place and am still shocked that they could turn that former dump into something that could easily pass for mid-brow style-magazine fodder.
---
5 Avenue A (at W Houston St.)
646/490-6004
boultonandwattnyc.com
---