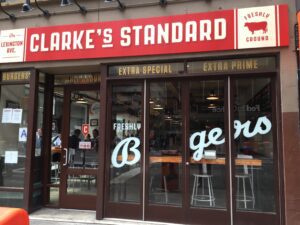 [CLOSED]
Formerly the location of goodburger, P.J. Clarke's decided to go into the same business and open an old-fashioned burger joint, complete with ice cream and milkshakes, paper hats and vintage decor. But like sized and updated for Manhattan. Which means that at certain hours, the tiny area that holds the herds of Manhattanites hungry for a classic burger wrapped in paper and stuck into a cardboard sleeve, along with some awesome-smelling fries and a drink can't hold the sheer mass of humanity that inhabits the most crowded business area in the whole of the isle. And that in and of itself is a reason not to go here. Unless, of course, you have infinite patience and a very understanding boss and group of co-workers.
As it was, I walked by this place a couple times, intrigued by the throw-backy signage and the seemingly bustling interior, but walked away after seeing the somewhat stewy-looking line of folks in front. The second time I passed it, I decided to go in. The line was relatively short (because I was probably eating at some asinine time in the afternoon), but the person taking orders seemed to struggle and the people in line seemed confused by the simple menu and befuddled by whatever process was in place to order items off said menu. I finally got up there and ordered a California Chicken Sandwich (because I'm from there, I guess). Yes, I know that's entirely lame, but eating a burger for lunch generally puts me down for the count. And then I waited. And waited. And waited. And, finally, got my little sandwich and rushed back to the office to chow down. And shit if that wasn't one tasty-ass sandwich. The bun was great, the chicken was moist and probably slathered in the grease from the flat grill they cook all the burgers on. But grease equals taste, which is just fine because I was eating a healthy chicken sandwich. Right?
I did go back a second time, getting through the payment part pretty quickly this time, but somehow still ended up waiting way too long for my food. And was honestly kind of stressed out watching the poor cooks in the open grill sweat and rush around trying to get everything prepared. Though my sympathy only goes so far, as they have to understand that getting food out in a timely manner in Midtown is almost more important sometimes than the food itself. Granted, my chicken was good the second time as well, but in their hurrying, they forgot the avocado on my California Chicken Sandwich. And no avocado pretty much just made the thing a Chicken Sandwich.
---
638 Lexington Ave
212/838-6000
clarkes-standard.com
---