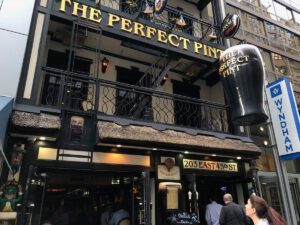 If someone asked you to point to a quintessential Midtown Irish bar in NYC, The Perfect Pint would definitely top the list. It's one of those places that is unremarkable, but also not terrible. Because that is like the median for Midtown Irish bars. If it's a place that you can tolerate for the entirety of two beers, you're good. If there's not a bunch of afterwork bros or Midwestern tourists hogging space or doing Jameson shots to "Sweet Caroline," then you have yourself a winner.
Now, this was indeed a joint I went to with co-workers. Because this is what they are built for. I mean, along with the aforementioned tourists. But they exist to serve groups of afterwork cohorts. What with their long list of lower and mid-tier name-brand beers and menu of pub grub, it makes for the perfect middle ground for the less discerning revelers. And, yes, thirty brews on tap is a lot. But if you look at what's offered, you'll notice a lot of Sam Adams and what look like Heineken sub brands. Even if that's not exactly what's going on. I mean, when you have Hoegaarden and Blue Moon, you kind of understand the general direction of a list that is tantalizing at first sight, but the excitement fades quickly when you realize that this is not a beer connoisseur audience they're serving. Even with choices this plentiful, they need to consider the lowest common denominator.
The big-ass Guinness pint hanging outside the place is probably a draw for anyone that happens to be wandering by looking for a good time. The thatched hut motif is some sort of Irish thing that I certainly don't recall actually seeing in Ireland the couple times I've been there. It feels more Hobbit-y, or like Jamaican or something. The bottom floor does resemble your average midtown sports bar. Typical tan-ish tile, dark-ish wood and kind of nondescript personality with a video jukebox. To be fair, a review of photos of the other like 27 floors in this joint looks like maybe they're a little more quirky and a little more whimsical. Tables made from barrels. Stools made from kegs. Even an open, fresh air floor that looks out on the busy midtown street. That kind of thing. So, perhaps you should think about tromping up the steep stairs to one of those other floors to get out of the relatively boring ground floor and experience… the perfect pint.
---
203 E 45th St. (at 3rd Ave.)
212/867-8159
theperfectpintnyc.com
---
View this post on Instagram