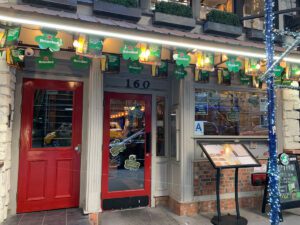 [CLOSED]
Ah, the ubiquitous Irish pub / sports bar in Midtown Manhattan. Places that serve domestic beer, Guinness and Jameson. While broadcasting Yankee and Rangers games on several flatscreens for tourists and afterwork white guys in khakis and work boots. All while ignoring the tenets of American grammar, what with Copper Johns just ignoring the fact the name should theoretically contain a possessive 's' and be Copper John's. I don't mean to be that asshole (especially because this site is littered with mistakes and errors), but when you put your life into a business, you'd think that you'd want to be correct, or at least consistent, with its name fer Christ's sake. But, what do I know?
Anyhow, we didn't spend any time in the main space at this joint, which has that whole narrow-ish pub setup with a long bar and barstools on one side and four or five hightop tables on the other. It's decorated in the staid manner of a mid-tier Irish pub, with old-timey photos, some knick-knacks and the right amount of wood and zinc. It's honestly smaller than I thought it was going to be based on the outside, but space in Manhattan is always at a premium, so they'll stick a watering hole in a closet if you'd let 'em.
We beelined to the upstairs space with some co-workers. I imagine it was pre-booked, as we seemed to have our own little room in the back half. It wasn't separated from the rest of the floor, but there was enough of a delineation to keep interlopers from glomming on to our tab. The space itself was unremarkable. We piled coats on chairs and all kind of milled around between the stairs and the tables at which I imagine diners would dine when eating a sit-down dinner of burgers and wings.
The service, however, was actually really decent. The servers managed to get the drinks correct, find who they belonged to and brought them out quickly and efficiently. It sounds like a "well, duh," but there's an art to serving drinks to a bunch of folks who are constantly moving around, drinking way too much and generally slurring their orders and being annoying. That wasn't me, of course, as I just ordered Manhattans and hung out. But those damned youngsters and their White Claws, rosés and… Well, I don't know what else they drink, but I'm sure it's irritating and fruity.
So Copper John isn't going to blow it out of the water in terms of a good time, or leave much of an impression at all. But if you're looking for an efficient evening in a semi-private space for you and thirty of your chatty co-workers, you could certainly do worse.
---
160 W 54th St. (at 7th Ave.)
212/471-4860
---