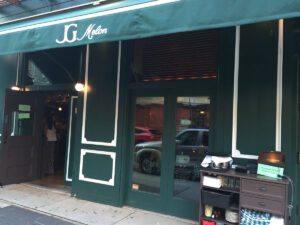 I was last at a J.G. Melon — obviously the original Upper East Side location — back when a burger was just something you got on a paper plate with an American lager and a grease-stained check at the end of the meal. And J.G. Melon was the one joint on the Upper East Side that snobbish downtowners might actually dare to come north of 14th street to enjoy. But only if they were with their one lame UES friend and were really drunk or really bored. I remember liking the atmosphere there during a bustling lunchtime jaunt, but not loving the wait. I remember loving the fact I was hanging out in what amounted to a NYC institution that I could walk to from my apartment and could finally act like a local in a bar that others actually wanted to come to. After all, at that point in my life, the only people who wanted to hang in the bars we went to were seventeen-year-olds and schizophrenics.
So when someone suggested we check out the new downtown location, my new-found joy of classic burgers and my nostalgia for a joint I really only went to once got the best of me. I read the funny articles about a bunch of post-millennial UES asshats bemoaning the fact their restaurant was being cloned downtown because they really had bonded with the place in the two years since they graduated college. I wanted to bend each and every one of them over my knee and spank them with the ghost of Danny Bonaduce's coke spoon. So, despite the backlash and the uproar from the burger purists, we headed into what I expected to be a packed, chopped-meat frenzy. Instead I found a bunch of friendly servers standing around. And a bartender with a quick smile and a quicker tap arm.
The space itself is classically decorated with green and white tablecloths in the throw-backy Irish pub manner. There's the expected amount of wood and the right number of beers on draught. The menu is simple, but might as well just have burgers on it, because that's the only reason anyone comes here. It certainly was the only reason we were there. Granted, even without the famous burgers and the famous moniker, this was an all-around pleasant experience, though it could use about 40 years of wear around the edges to make it feel as authentic as it wants to be.
So, the burger. It's simple, it's hot and completely decent. Of course when you have such high expectations, and almost 43 years of burger history on your side, it's almost impossible to live up to the hype. I expect that this downtown location will continue to tweak its formula and season that grill and wear that wood and someday, around the year 2058, they will serve a cheeseburger that makes people get all pissed that they've copped their Village mojo and opened that damn Melon outpost in SoHo.
---
89 MacDougal Street
212/460-0900
jgmelon-nyc.com
---