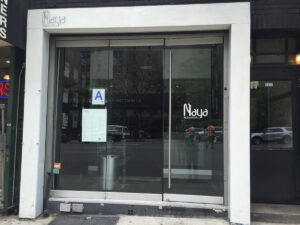 This place is so unassuming on the outside, you'd never know the front doors would reveal some sort of space-aged Star Trek weirdness on the inside. Seriously, it's like walking into a ship from 2001: A Space Odyssey or some other cold, clinical white environment meant to ward off microbes and engender fear of life-like androids. It seems especially weird for a Middle Eastern restaurant, as I don't generally equate hummus with starkness and slick, hard surfaces. And those booths. We tried to fit four people in one of them — which I think is a pretty standard booth-sitting number — and I got to know my co-worker's inside noises a little better than I wanted to. Plus, she probably still has bruises from my sharp-ass elbows.
This joint is technically Lebanese. I don't know what a mezze is, but it honestly doesn't sound particularly Lebanese to me. Also, I'm not certain why this is referred to as a grill. It's not a steak place, and I don't believe it really fits what I'd normally consider grill-like. Instead you have what amounts to a pretty classic menu of Lebanese grub. And I know of which I speak. My grandmother-in-law was Lebanese and she made authentic cuisine on the regular that included everything from hummus to spinach pies to kibbé to old-culture labné that I'm still surprised didn't kill us. And that, my friend, clearly makes me an expert.
Naya takes that homemade style and updates it for a new century. I'm not going to say the stuff is miraculous or anything, but it's certainly tasty. What little you get of it, that is. And that, I think, is where the "mezze" comes in — and now I know what that is because I finally looked that shit up. Mezze means small plates! So, when you order the lunch special, you get three "mini-mezzes," which then technically means "mini-small plates." That's pretty reductive. But accurate. Although combining what amounts to three scoops of dip and/or one ball of something (falafel or kibbé) with a shawarma sandwich is actually a decent amount of food. The sandwich, like a lot of shawarma, wasn't the most flavorful thing in the world, but it was satisfactory. Honestly, though, the mezzes were the best part. And for $20 for the whole lot I think I could have done better. I'd be curious to see how large or small the full-sized small plates are, as it seems like sharing is the way to go — despite my general disdain for sharing dip-like things.
---
1057 2nd Ave. (bet 55th & 56th St.)
212/319-7777
nayarestaurants.com
---