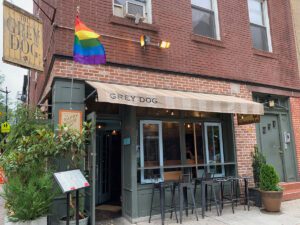 It's like your hippie friend from New Hampshire opened an American food joint with some friends from home. You know the guy. He grew up with a hacky-sack in his crib and his parents bought him a septum pierce for his seventeenth birthday. His parents played him Phish in the car to and from school and even threw in some Spin Doctors deep cuts for some mainstream flavor. He thought that Rasta beanie would look sweet freshman year at Bennington. He graduated, took a post-grad gap year, thought about doing Teach for America, but ended up moving to somewhere in Asia to teach English to businessmen.
He came back to the US with his Art History degree and a small Japanese vocabulary, but not much else. After a year of aimlessness, hanging around a couple B&Bs in his native New Hampshire, he hit on an idea. His parents always said if he had a spark of ingenuity and could put together a business plan that they'd bankroll him for one year. So he and his burner friend from high-school Googled "business plan," downloaded an example and basically subbed out "start-up" with "sandwich shop." His parents bought in, he moved to NYC, scoped locations and paid the first and last month's lease on a space.
It turns out his business plan included just ripping off the homey brunch place in Nashua he once visited on a stoned adventure for french toast. He imported all the white dudes and dudettes with dreads and lobe plates he could summon and got things rolling. And, as it turns out, New Yorkers loooooove that shit. Good job totally made up dude who probably has very little to do with the real story behind The Grey Dog!
In reality, this joint has been around since 1996 and was apparently started by two brothers. The rest I'm sure is totally right. Or at least this is what this place feels like. It's down home. It's warm and definitely smells a little of pachouli and flavored vape juice. It's a solidly American menu of comfort food, with pancakes, omelets and avocado toast (of course) for breakfast/brunch and a smattering of sandwiches and salads for lunch. All of which are wholesome and relatively plentiful. Their food is definitely not cheap, but even though my chicken on sourdough with fresh mozz, pesto and the dreaded sundried tomato was definitely not low-fat, it felt like I was eating something healthy-ish. If I had to guess, I'd say at least 99% of the help are hardcore vegans and probably are dying inside with my choice, but fuck 'em. If it tastes good, I'll eat it.
There are apparently four of these places around NYC, and I assume they all kind of follow the same theme. It may not be slick. It may not be "modern," per se. But sometimes you just want to be comfortable and feel like you've removed yourself from trendiness for a day (even though the untrendiness of this place is actually trendy). Go. Check it out. Worse comes to worst, maybe you'll walk out with some new tattoo or piercing ideas.
---
49 Carmine St. (at Bedford)
212/462-0041
thegreydog.com/
---