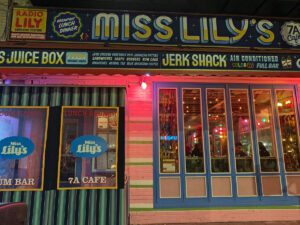 I've been to Jamaica. I've been to Turks & Caicos. That doesn't make me special per se, but does mean that I've seen a jerk shack or two. Literally, though, I think I've seen two. Now, how does Miss Lily's — a self-described jerk shack — compare? Well, first, there is nothing shack-like about Miss Lily's. There is no sand. No picnic tables. No feral dogs. No dudes breaking conch shells with hammers close enough to your table so as to splatter you with innards. And, quite frankly, no sunshine, sound of the surf or wafting weed smoke either. Not that I recall the smell of fresh ganja while I was wolfing blackened chicken on a beach, but I just didn't want to give anyone the wrong idea that this was somehow that authentic, what with it sitting on Avenue A in NYC and all.
Instead we walked into a restaurant that reminded me of something I couldn't quite put my finger on until later that night when the booze really hit me. It was Drexl Spivey's joint from True Romance. That's right, fake-ass, white Jamaican Gary Oldman's pimp lair from a movie written by the ultimate cultural appropriator, Quentin Tarantino. But like way happier and stuff. And way less seedy. So, not like that at all other than there was a vaguely Jamaican vibe and my rum and bourbon-soaked brain made that connection. To be fair, though, there are a shitload of patterns (zig-zag, animal, etc.) going on in a relatively small space so it may have affected my thinking a bit.
Mix the visually overwhelming palate with the ear-splitting ska and reggae and all its descendants and subgenres (dancehall, dub, ragga, etc.) and you have a pretty jamming party atmosphere — if not a headache. But, in all honesty, the draw for me was the frozen dark & stormy machine. They call it a "black & stormy" for some reason, but from what I could tell, it was the same thing I was expecting. Shit, we spent a good number of nights in our twenties sitting in Mexican restaurants drinking frozen margaritas out of those swirling machines, so why not take a chance on the Caribbean version?
Was it all I wanted it to be? Not really. In reality, the best dark & stormies are served in all their nose-hair-curling glory at The Rusty Knot, where they really amp up the ginger and stick it in a tiki glass that makes you feel like a real idiot. But the novelty of the machine was kinda cool anyway. And the place just gave off a very positive vibe. So, even if my drink didn't quite blow my socks off (and was a little pricey to boot), I had a really excellent time just soaking in the character and trying to get my eyes to stop spinning in my head from all the colors and textures. Unfortunately, however, we didn't get to sample the food, as we'd made reservations elsewhere, but would definitely swing back through to get some jerk. I've heard from folks that's it's pretty decent. Not that this is an endorsement that you'd want hanging over your restaurant, but I think Drexl would have loved the place.
---
109 Avenue A (at E 7th St)
212/812-1482
misslilys.com/location/miss-lilys-east-village-7a/
---