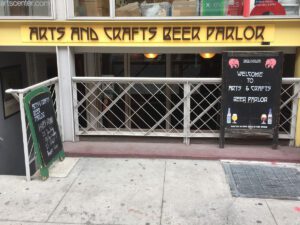 It's always concerning going to a bar this close to NYU. You run the risk of being beaned with a ping-pong ball, getting doused with Coors Light or appearing as the old, confused guy lurking in the back of some kid's Snapchat jobber. But, rest assured, the Arts and Crafts Beer Parlor is like the antithesis of a college bar or millennial magnet. Its subterranean location and attending low ceiling doesn't exactly invite rambunctiousness, and the Mission-style decor reminds me more of my house growing up (my folks were collectors of this most uncomfortable of antique furniture) than one of those beer and wing-soaked NYU dens of debauchery like Down the Hatch and Off the Wagon.
In fact, the day we walked down the stairs to the warm and inviting space (despite being underground), the happy-hour crowd was verging on ancient. Like almost parental age ancient. I can't say that was typical of this joint — or maybe it was grandparent's day at one of the NYU schools — but I was surprised by the mature stature of the audience. Granted, the patrons got a bit younger as late-afternoon moved into evening, but it was certainly a pretty mellow and a well-aged bunch for the area. The attitude and demeanor in the small space remained low-key and pleasant, the bartender affable and seemingly fine with my inability to make a decisive decision about what kind of draft to get from the decent list of 24 craft beers. I ended up with a really tasty Gun Hill 21 Guns Imperial Red Ale (which also broke a record for the longest beer name ever) and something else that I don't recall, but know wasn't one of those sour ales that give raisins a bad name.
The owners of the bar do mention on their site that this is not at all a sports bar, which I will completely back, and that it should feel like an extension of your living room and imbue all the qualities therein. Okay the fancy language is mostly mine, but in saying this, they don't know how truly close to reality they've come based on my personal connection to the arts & crafts movement that exploded all over my childhood home and permeated my young life with trips to swap meets, flea markets and antique shops seeking out these artifacts up and down the California coast and beyond.
---
26 W 8th St (bet. 5th Ave & MacDougal St)
(646) 678-5263
artsandcraftsbarnyc.com
---