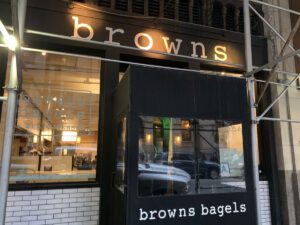 [CLOSED]
Don't toast your fucking NY bagels. It's a travesty. The only acceptable toasting of bagels is if your kid orders one at a NJ diner or if the bagel is at least two days old or frozen. Otherwise leave it as god intended: soft, crusty and chewy.
This is especially true if you, like me, use bagels as the perfect carb sponge to soak up a slightly foggy morning. You know, one of those mornings that followed a night where you recall drinking three less beers than you actually drank? Yeah, that's where Browns Bagels steps in.
Perfectly situated on my walk to work, it supplies bagels. Good bagels. No, seriously, that's it. That is all it takes for me to like your bagel joint. You give me exactly what I ordered — in this case a sesame bagel with plain cream cheese — and I am happy. I pair that correct-sized, chewy carb bomb with a nice, cold Coke Zero and my morning is complete.
The thing is, there are a lot of shitty bagels out there. Those zombie bagels you get from the coffee street carts. Those monstrosities you get in towns outside of NYC where they think it's all about how gigantic you can make your product. And the worst thing of all. The bagel that is either more bread than bagel, or those shiny-shelled abominations you find at chain "bread" or "pastry" places. It's shameful, honestly. And to think there are people all across this country who think of these things from Au Bon Pain and Dunkin' as actual bagels. No, sir.
But Browns gets them right. And in a space that feels like a decent melding of old and new school class. Certainly not the "dirty deli" around the corner, it's like the bathroom at a Keith McNally restaurant. You know, all white subway tile and marble. And with a line. Because other people also cherish their bagels — and occasionally drink their weight in alcohol.
---
132 W 31st St. (bet. 6th & 7th Ave.)
212/971-0002
---