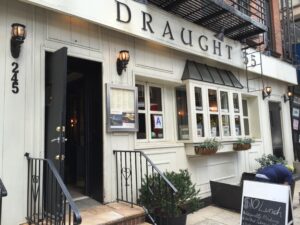 I'll give you two guesses what street this joint sits on. Ok, I'll give you no guesses (and I'll even put the address down at the bottom of this review) and just tell you that it's in one of those kind of non-descript sections of the city that attracts dudes and ladies looking for a noon-time Thursday beer and burger and groups of said people looking for maybe some Scotch and craft brews in order to unwind at the end of the day. So not necessarily a destination to which folks come from their apartments, but rather an easy and pretty decent option on a weekday when you don't feel like McSomething's or Fitzwhatever's pub, which seem to be less and less prevalent in our gentrifying city.
It does seem that my few excursions to Draught 55 have always included a number of my co-workers, all of us lined up at one of their picnic-bench-like benches, surveying the clipboarded menus and handwritten lists of craft and non-craft beers. And that list is, as advertised, pretty impressive. To wit it's not like so many of the so-called pubs that advertise a large list of craft brews, but in fact load the thing up with godawful beers like Shocktop (made by AB) and Blue Moon (brewed by Coors). The menu is filled with apps to share with said beers, with sumptuous-sounding items like Deep Fried Pickles With Bacon Brown Sugar Aioli, a bucket of spiced and candied nuts, glazed soft pretzels and all sorts of other more traditional goodies like fries, onion rings and fried calamari — all of it plentiful and all of it good for a group pairing it with booze. The entrees sound a little better than they actually taste, but are sufficiently fattening and rustic where they need to be. I mean, who could resist something called the Mothers Milk Braised Brisket Sandwich, or what turned out to be a pretty decent House Brew Battered Fish N' Chips? Honestly, though, the big plates are hardly necessary, as you could live just fine off of the apps, beers and decent list of Scotches and whiskeys.
It does seem like the owners of the restaurant put some thought into decor and something that I constantly bitch about: the lighting. Nothing can make a drinking / dining experience more enjoyable than properly calibrated lighting schemes. Nobody wants to drink in a joint that's lit up like a 1950s cafeteria. This place will somehow make you feel better about your co-workers and, conversely, make you more attractive to them. So why not grab a couple of your closer compadres and walk on over to one of the better options in a neighborhood primarily filled with nothing but middle-aged dudes in khakis and no-name-brand running shoes?
---
245 E 55th St. (bet 2nd & 3rd Aves)
(212) 300-4096
draught55.com
---