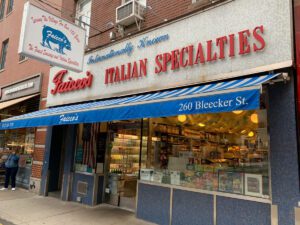 One can't help but think of The Sopranos when looking at this pork store. Granted, it's in the middle of the West Village and not Newark, but certainly smacks of the same kind of authenticity and porkiness. Of course, I'm not a lover of pork, but fear not! There is more than marbled Italian meats at this sandwichery. Not that they don't have all sorts of hanging pig product, because they do.
I was brought here by a dyed-in-the-wool son of a Russian Jew from suburban Jersey who is convinced in every way that he's an Italian dude from Brooklyn. He talks about Italian sandwiches the way EDM fans talk about BPMs. The way surfers talk about the perfect wave. It's weird to me. Maybe because I don't care that much about anything – let alone lunch.
So I will assume he's correct about their Italian sandwiches. That they're robust and delicious and all the things that I assume they are without ever having one. What I can comment on is their chicken cutlet with pesto hero. First, it's a big meal. Especially as one who is known to eat a small bag of cashews from the vending machine in lieu of a real midday meal. It's fried chicken with fresh mozzarella and homemade pesto on a pretty darn good, crusty sub roll. It's wrapped in white paper, which is absolutely saturated in the oil from the pesto when you open it. It's fragrant and the fry on the chicken is great. The pesto is garlicky and greasy as hell (but in the best possible way). I think I slipped into a coma after eating it, but it was almost worth it. Who am I kidding; it was totally worth it. It certainly makes you wonder why in the hell you ever ate a sandwich anywhere else.
---
260 Bleecker St. (at Cornelia St.)
212/243-1974
faiccosnyc.com
---