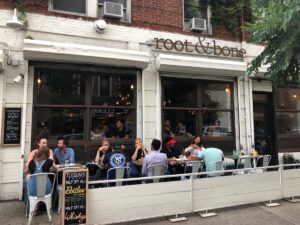 [CLOSED]
I will admit that I was not entirely sober when I ate at Root & Bone. Granted, these days that may have meant that I got within five feet of a cocktail or maybe got a little too close to the tailpipe of a 70s sedan. Part of it had to do with the whole walk-in thing as well. We went during the height of their dinner service on a Thursday, which meant that they took one of our cell phone numbers and told us to not wander too far and that they'd text when there was a table ready. This whole system kind of encourages, or at least enables, drunkeness. After all, you're told it'll be 45 minutes or so, which definitely means too much time for one drink, just enough time for two and probably too little time for three. So you end up ordering and drinking two drinks in one place, not getting a text, going to another place, ordering a third and getting the text three minutes later. So that third drink turns into a chugging challenge and gets you over to their dinky dining room just in time to claim your seat.
And dinky the place is. I didn't count, but I'd say max capacity is around thirty people, and it's a really, really tight thirty. Folks pile at the small counter and the rest sit at rustic, small tables that feel like dining in a shabby-chic farmhouse. In fact, it resembles what you'd imagine the Restoration Hardware, twee version of that whole Carolina shanty thing that restaurants and bars seem to think Manhattanites want in their Southern joints. Whatever the case, it all seems very considered and aiming for warmth and stylish homeyness. Granted, like any tiny space, it gets quite loud. Or maybe that was just the drinks yelling…
In terms of the food, I've come to realize over the years that comfort food tastes all that much better after imbibing a bit. And while I imagine the food was really decent without the layer of booze enthusiasm, it made it all that much better. Especially those biscuits. Grandma Daisy's Angel Biscuits. I would have waited just to eat those. They're salty and just a little sweet and also have a savory jus to dip them in. I don't know if Daisy was even a real person, but the woman is or was a genius. The fried chicken was also perfectly crunchy and greasy in the way you want it to be. The chicken juicy and flavorful. I'm no aficionado, but that's what I imagine fried chicken is supposed to taste like when you eat it not in the dirty environs of the East Village, but at a paper-covered table in the South somewhere. It's a pretty simple menu, but in a refreshing way. And, based on what we did end up eating, you figure the chefs wanted to keep it simple and just make sure the food tastes damn good. I think this is like the fourth or fifth Manhattan restaurant I've eaten at helmed by a Top Chef contestant (both Jeff McInnis and Janine Booth appeared on the show and are now apparently engaged) and if this is any indication of the talent out there, I may seek out more alumni restaurants.
I think the little (kinda cheesy) blurb on their site kind of sums up what this place is all about: "Soul nurturing, conscientiously sourced, farm-fresh ingredients. A craftsman's ethic coupled with artistic culinary thought. A tribute to the timeless recipes and traditions of a rural America and the warm embrace of its hospitality."
---
200 E 3rd St.
646/682-7080
---