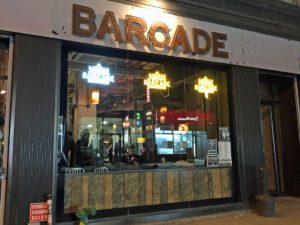 Barcade is like every nerd's dream, but with lots of beers on tap. The question is, what nerds are they trying to serve? Arcades aren't a thing that the presumably millennial crowd ever had in their lives. They don't know the way they formed the central hub of our early entertainment lives and, later on, our social ones. They didn't have the joy of circling the huge Castle Golf arcade, tokens in hand, or seeing Ricky Schroder play Red Baron at the Sega Center in the old Sherman Oaks Galleria. They didn't meet their junior-year, high-school girlfriend at the Westworld arcade in the dying twilight of Westwood Village's heyday. I imagine they view it as kitsch. A fun, quaint diversion. Something to do with an IPA in hand. They just don't understand that this was a lifestyle for some of us!
Okay, enough Gen-X nostalgia and bitching. This joint — despite the naked commercialization of our old-ass lives — is actually a pretty good idea. They pack around 65 standup, vintage video arcade games and pinball machines into a relatively massive space in the centrally-located, post-work-friendly area between the Flatiron and Chelsea. The decor is an appropriate, rustic mix of industrial, roadside bar and fraternity basement. The beer list, however, is all top-flight microbrew and interesting specialty brews that look to be created specifically for the Barcade locations (like the oddball-sounding Shmaltz Pastrami Pils). I got a couple Radiant Pig Gangster Duck American red ales, for instance, which was not at all a beer I'd ever heard of before. Which, sorry, leads me to a little digression… Why do we continue to think that people need to go to Europe to have awesome beer-drinking experiences? In my admittedly limited experience abroad, the pubs/bars in England, Ireland, the Czech Republic, Amsterdam and wherever else are mostly owned by distribution companies that give you at most five of the same beers in almost every joint. But here we have what is essentially a theme bar in NYC — one of about 10 trillion bars in the city — that has more, and more interesting, beers on tap than any bar I've ever seen outside of the US or outside of NYC. We have to stop this fake news shit! Rant over.
Truth be told (because we're all about candor on this site), we sat at the bar for the entirety of our time here. I took a walk to the restroom and observed young-ish people seemingly enjoying playing games that I recall loving as a 12 year old. There was even the requisite group of Facebook engineers at some sort of after-work event in the front of the bar probably talking about how they could have done it a million times better had they been alive in 1983. Or maybe they decided to come to Barcade in order to eat free food (developers loooooove free food) and pay homage to the OGs. Whatever the case, I felt a little of the old communal feeling that arcades once brought us and hope that the trend of combining beer and nostalgia continues to both warm my heart and make me feel old as hell.
---
148 W 24th St.
212/390-8455
barcadenewyork.com
---