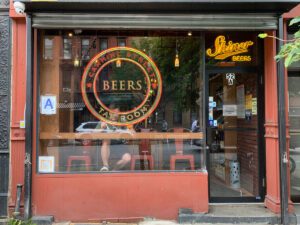 To call this a bar would be to mislead people who hang out in bars. It's more of a beer bodega with a little bar up front. Like if they served wine, it would be called a tasting room. So I guess that's where the term "tap room" comes from. It's oddball, to be sure, but not a bad little joint to grab a beer and eavesdrop on a couple beer nerds.
And that's just what I did. I sat at the little, uh, shelf that sticks out from one wall of the skinny space drinking my Grimm Artisanal Ales Chronos and listened to these two robust fellas talk about beers with the owner/bartender of Carmine Street Beers as if they were discussing the Marvel universe. In fact, they discovered this place in some sort of beer newsletter they subscribe to and had traveled here after something akin to Comic Con, but for brews. Like they had come from another far-away state to stand in this 50-square-foot tap room to kibitz with the owner about microbrews and tasting notes. It was pretty entertaining.
While I sat there a nice young lady came in and wanted to buy a mixed six of IPAs for her guy friend's birthday. The owner asked some questions about what he might like and then went around and gathered six beers he thought might fit the profile. And they do have a ton of beers stacked all around the shop in cans and bottles and I believe have to-go growlers for their beers on tap. It's actually a pretty cool gift idea. Because who wouldn't appreciate taste testing a half dozen obscure craft brews in the comfort of your own home?
Apparently this joint has been around since 2013, so they're actually making a go of it. The owner was a super-nice guy and he was amazingly patient with the two fanboys, who talked his ear off. I imagine the location, which is a great one, gives him a lot of foot traffic and I wish good things for him well into the future.
---
52A Carmine St. (bet. Bedford & Bleecker St.)
212/633-2337
---