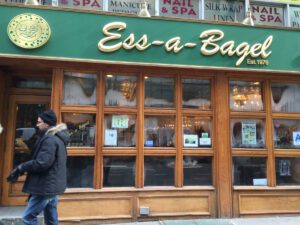 Sometimes you just want a bagel. Sometimes you just want a sandwich on a bagel. And, yes, I know it's a controversial take to call anything on a bagel a "sandwich," but all you sandwich purists can go punt. I understand that cream cheese and lox on a bagel is not a sandwich. I'm not talking about that. I'm referring to items that if they were otherwise on rye bread would constitute a sandwich. Because anything you can put on rye, you can put on a bagel. Okay, not a grilled cheese or a tuna melt, but… Okay, whatever. Sheket bevakasha!
The mysteriously named Ess-a-Bagel is a pretty straight-forward example of a Jewish bagel joint. Around the holidays, there are tables and tables of women sitting around with cash boxes to capture challah and white fish overflow. The line at lunchtime every day of the week is a chaotic mix of midtown locals and tourists wanting to get an authentic NYC bagel. And, honestly, it's pretty much as authentic as they come. It's like the non-meat version of Katz's Deli, but with better prices and a little better hygiene.
My go-to sandwich is a smoked tuna salad sandwich on a plain or sesame bagel with tomato and red onion (and maybe some lettuce if I'm feeling frisky). I think it's just regular tuna with a bunch of smoked paprika thrown in, but something about the chewy bagel, the cold-ish tuna and the smokiness just makes for an excellent lunch indulgence. I can't say people sitting around me appreciate the stink, but it's better than my occasional trip to a Korean truck.
Ess-a-Bagel isn't for the faint of heart, anyone suffering from plantar fasciitis or anyone who gets flustered by extreme ordering situations. But if you can hit it just at the right time, you can score yourself a bagel sandwich for around eight bucks that will most likely leave you satisfied and carb loaded for the entirety of your work day.
---
831 3rd Ave. (bet. 50th & 51st St.)
212/980-4315
ess-a-bagel.com
---