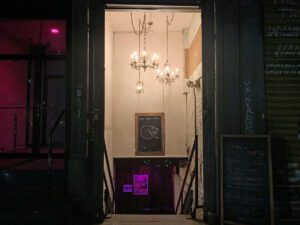 Man, this place looks like a lot of fun on paper. But what Home Sweet Home presents on its site and in descriptions online are apparently very night and attitude specific. Also, I'm not sure when I got so old, but when the noise level is beyond what I can take in while still drinking a beer, my brain tells me I need to leave. Especially when that music can generously be described as robot dance music.
So, let it be told that music can make or break a bar experience. After all, there is nothing inherently bad about Home Sweet Home. It feels like the basement of a taxidermy fraternity at a state University in the south. A very specific take, I know, but you'll totally understand if you go. Now, I went to school in the Northeast, so this is just a blind guess, but it has that feel of a joint where you might get jumped on the way to the bathroom and held by a couple dudes with chin beards for a few days in a utility closet.
The funny thing is that the photos of the place I've found online don't really match my experience. I must have missed anything of value as I grew distracted by the not-very-inviting soundscape. Those photos show a much more Lower East Side vibe. You know, cases filled with weird stuff, vintage junk on the walls. Old collectibles shoved into cases just because. Just your average space filled with thrift store curios and intentionally shabby decor. If paired with some nice mid-nineties or early 2000s indie rock, it could have fine, I think. Or even something more modern, but not absolutely ear-bleedingly loud and awful. Because standing in what I think is maybe a dance floor under a spinning disco ball while some of the worst music I've ever heard in my entire life makes my eardrums thrum is not how I ever intend to spend another night in my life.
---
131 Chrystie St. (btw. Broome & Delancey St.)
212/226-5708
homesweethomethebar.com
---