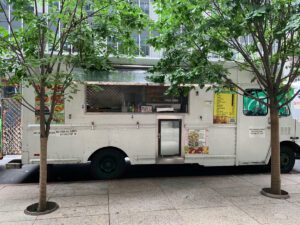 Look, dude, I've been to Jamaica. So I know what the hell I'm talking about. And lest your mind go to the wacky tobacky. The reefer. The ganja. Shame on you. You ethnocentric asshole. What I know about is chicken. More specifically, jerk chicken. That herb-laden, spicy foul from down Caribbean way. And it was this truck and its enticing aromas that parked underneath my office window several times a week that brought back my time on the island. That glorious week.
Then along came the reggae-pumping, line-inducing rival. The cart that parked right in the corner of 6th Ave. and 52nd that looked like a beach hut party on wheels and churned out boxes of Jamaican food for eager crowds. I felt a little bad for the rather drab JMG truck with its hand-edited menu and complete lack of flash. How could they possibly compete? Especially with this name that neither rolls off the tongue, nor spells out what the heck they actually serve? JMG. Jamaican Meal Goods? Jammin' Man Grub? And bakery? That one kind of puts the nail in the coffin. Unless that part refers to the Jamaican patties that you have to technically bake? Yeah, that must be it.
In any case, if people could just try the food, I think that party cart might have a fight on their hands. Because the jerk chicken is damned good. It's not fancy. It's not served with a side of Bob Marley and the latest in lunch box technology. But what you do get is a homey, awesome pile of food that includes rice and beans, plantains and moist, fall-off-the-bone jerk chicken. And that chicken is packed into that typical aluminum and plastic take-away container that gives you such joy when you pry off the lid that it actually transported me back to the Caribbean for a minute. I was no longer sitting at my desk in Midtown as the aromatics and complex combo of spices hit my face holes. And, hot damn, it tasted just as good. The textures of the rice and beans and the sweetness of the plantains to offset the fire of the chicken was just awesome. Hot damn I need to get on a plane. Or at least get back to the office, so I can look down on this truck and bide my time for the lunch whistle so I can get back to that sweet, sweet meat.
---
52nd St. (bet. 6th & 7th Ave.)
347/350-6757
---