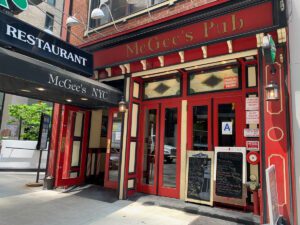 I've never seen How I Met Your Mother. But, after visiting this bar — which they claim was the inspiration for the bar in the show — I have to figure that it was some sort of tragi-comedy? The photos and HIMYM promotional stuff peppered all around the space would lead you to think otherwise, but the dark, depressing space in which we sat felt more like a sad episode of like Better Call Saul than a whimsical sitcom about a group of buddies.
We ended up wandering into McGee's with a group of co-workers after a Yankee game. There had definitely been some drinking, and I believe it was raining and we were on the downslide of our buzz and looking for somewhere to gorge. They stuck us upstairs in some room-ish type space that I think might be called the Symphony Room. Though it felt less like a symphony and more like a corridor next to an elevator in a tenement apartment. Windowless, dark and kind of cramped.
The bar downstairs also looks to be one of those windows-only-in-the-front Irish bar kinda joints where people awkwardly line the bar and only cause traffic jams when they try to gather in groups larger than four anywhere in the space. I suppose they can't help the space they were dealt, but the generic nature of it all makes me wonder why any TV executive or writer would base a fictional bar on a bar this unimaginative.
The food was fine. That's about all I can say about it. It's typical Irish pub fare that you could blindfold me, put a plate down from this joint and any number of the other 50 midtown Irish pubs in midtown with a Mc or an O' in their names and I'd have no clue whose nachos are whose. It's a bad sign when the photos on your website make your grub look more boiled than it should be. Granted, food styling is certainly an art, but maybe you shouldn't advertise your food when you're really should be pushing the Guinness and Giants.
---
240 W 55th St. (bet Broadway & 8th Ave.)
212/957-3536
mcgeespubny.com
---