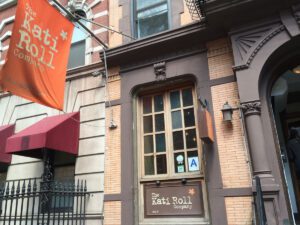 Who knew there were Indian tacos? Or are they mini Indian burritos? Or maybe they're more like Indian taquitos. Or, more authentically, flautas? Sorry, I guess it's kind of weird comparing the food of one country with more familiar cuisine from another, but I think pretty much everyone can visualize Mexican food, but might have a harder time picturing a food that apparently started as street meat in Calcutta.
Well, now us New York City folk get to enjoy these kati rolls thanks to the folks at The Kati Roll Company. And, as of this review, there are five other locations in addition to this one, so even those of you not in Midtown zombieland can enjoy the deliciousness of the spicy little morsel that is your Eastern flauta. I'm not going to pretend this place is for everyone, however. First, you need to have patience to crowd yourself into the tiny space that is their "restaurant." Second, you have to be a teensy bit adventurous. There's seating for about six to eight people, but most kind of jigsaw their way to the minuscule counter to order and then stand and wait for their rolls. I've peeked in several times, seen a mob and just kept walking because nobody wants to sweat on others while being suffocated by the 30 hand-ground spices (according to their site) that hang in the air. Luckily, the food — depending on the hour — comes out relatively quickly; timing-wise akin to your average Taco Bell wait.
What comes out is generally pretty darn good. I tend to get the chicken tikka roll, which is basically a chicken skewer-type meat soaked in those aforementioned 30 spices, wrapped in a paratha flatbread and accompanied by lime-cilantro chutney, onions (both pickled and fresh) and a dash of chat masala spice. When cooked as planned, the chicken is juicy and the whole thing is a great pop of flavor and heat. It's really quite satisfying. The issue comes when they overcook the chicken (which is seemingly about 33% of the time), which can char in a way that isn't that great and can sometimes dry out a bit. The flatbread is also tasty, but is certainly not low-cal and comes with grease that definitely necessitates a couple absorbent napkins. The whole package is just unique and beats the crap out of a turkey sandwich or one of those dumb fucking orange-bowl salads that everyone eats.
It looks like the prices have trended up since last I ate there, but one roll will cost you about $5.75 or so and there may still be a slight discount for buying two at a time. I find one roll isn't enough and two is too much. So maybe you can find a work buddy to go halfsies with you on three rolls and get the best of all worlds.
---
229 E 53rd St (btw 2nd & 3rd Ave.)
212/888-1700
thekatirollcompany.com
---