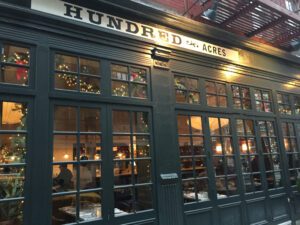 [CLOSED]
From the team that brought you Cookshop and Five Points (R.I.P.) comes my latest foray into the sustainable world of coziness. And, yes, Hundred Acres isn't a new restaurant by any stretch, but it's new to me, so contextually it's new to you too. In fact, it's a restaurant I walked by a thousand times on my way to and from work and always peered in and thought to myself, "My, self, that looks like my kind of joint. What with the subway tile, the soft lighting and the old-school-looking bar stocked to the gills with inviting bottles of brown liquor, it's just screaming my name!" But apparently it wasn't screaming loud enough, or at least I never had occasion to want or need a semi-formal lunch during work hours. This would have been quite an upgrade from my chicken and white sauce in styrofoam lunch that usually darkened my desk on a daily basis. But, alas, I could never pull the trigger and bask in the glory of its inevitably stick-to-your-ribs grub.
But then a couple of my co-workers decided that we should go there just for the hell of it. Or maybe it was because I quit and they felt it was a good excuse to blow some cash and have a couple beers in nice surroundings on a Wednesday afternoon in winter. And pleasant it was. From the warm decor to the pleasant server, it was everything I'd hoped it be. Not to over-hype what needs no hype, but this Freeman and Meyer duo certainly have a style — and that style is humanistic. They make restaurants that people want to enter and want to spend some time in. They're not modern, nor are they too overly throw-back. They're hip, but not too hip as to alienate. And the menu is certainly on the local and fresh side of the culinary divide (as opposed to foreign and rotten?), but it's not precious and filled with veggies that haven't had the dirt knocked off of them.
I had a deeelicious burger with gruyere and caramelized onions (though, to be fair, a slab of beer-soaked cardboard would taste good with those two things on it) and one of a couple of their fancy craft beers they have on tap. It was the perfect comfort food to go with the surroundings and felt like it was cooked with love. Okay, hopefully not that much love, but love nonetheless. Sounds crazy, right? Well, apparently you haven't been to the places I've been where they just kind of throw the food on your plate and you can feel the rushed nature of things and the lack of care that went into plating your damn burger. I mean, who wants to eat a burger with a crooked bun? Sure, I could just straighten it, but I shouldn't have to. My understanding is that, like their former place, Five Points, Hundred Acres packs 'em in on the weekends for their brunch service, which is not at all surprising. There's a commonality that all popular brunch joints have in common, and that's either a bottomless drink special or the warmth and inviting nature that just goes naturally with some french toast or an egg sandwich.
---
38 Macdougal St. (bet. Prince & W Houston St.)
212/475-7500
---