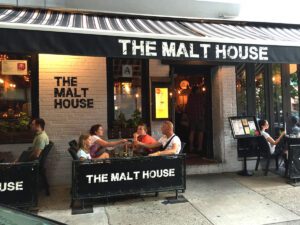 Somewhat of a cross between an ancient Irish pub and something you might find in The Shire, The Malt House pours on the rustic charm. Truth be told, it also pours on the darkness. Not in like an evil, death metal kind of way, but in a very literal, there is no light kind of way. Reading the menu is like attempting to decipher ancient hieroglyphs in a subterranean French crypt. But I suppose it makes things romantic when you're ensconced in worn brick and leather banquets.
The menu at The Malt House seems to have changed somewhat since I've been there, as I had some reasonably decent mussels (though they were a little on the briny side), but they no longer look to be available on their very limited list of grub. In fact, the number of entrées seems to tap out at eight, ranging from a burger, a few different sandwiches and a couple tacos. There are appetizers, of course, but even they are in short order and are about as inventive as your typical MSG-area Irish pub. It just feels like there should be some shepherd's pie, bangers and mash, fish options and some other more English/Irish stuff here. But instead it's a little more Buffalo Wild Wings than Spotted Pig or Breslin. It feels like a missed opportunity.
My assumption is that they felt more folks were coming in to drink one of their twenty or so craft beers on tap than eat their food. So why not streamline your food menu and focus on the brew if that's your core business. Written on a chalk board above the bar, the joint does definitely feel like a place built for drinking beers. After all, you don't really need to see in order to raise a glass to your face. And the low stools mean less of a fall should you get woozy.
Look, I will never blow off a restaurant or bar that is trying to do something. Like trying for a very specific look and feel or serve an audience that may be underserved in some way. This definitely feels like the owners looked at the Blind Tiger, saw that they did a pretty robust business and decided that they could take that business plan and add a simple food menu and make a go of it. I suppose it's been pretty successful seeing as they opened a second location in the Financial District. Go beer!
---
206 Thompson St. (at Bleecker St.)
212/228-7713
themalthousevillage.com
---