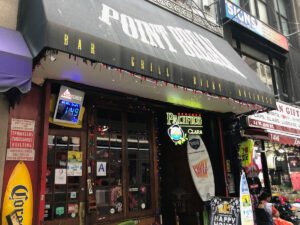 [CLOSED]
How in the ever loving hell could there be two bars in NYC that relate to a semi-classic surf crime movie staring Keanu Reeves movie from 1991 (which was in turn based on a surf noir book called Tapping the Source from 1984)? Well, I've been to the other Point Break-related bar in town, Johnny Utah's, and I've read the book that started it all. So this makes me an aficionado when it comes to weird, shitty surf-themed bars in Midtown Manhattan. Thought I'm not certain that's something that anyone anywhere has ever bragged about.
What I can brag about is finding what is apparently one of the oddest good times that anyone anywhere will ever run across in a major metropolitan city. Ok, good time is a bit of an exaggeration, but never let it be said that people watching isn't a fun and safe activity. Unless you're watching a biker sex show in Amsterdam. Which I can say is neither fun nor safe. But back to the surfer stuff… This is somehow like a local bar. Not necessarily local in the sense that people occupying the bar live in the neighborhood — because the only people living in this part of town are using a stack of sanitary napkins they swiped from the public library as a pillow — but local in the sense that they work in the 'hood and gather here after work and the multiple hours after a joint turns from after-work to should-be-a-pumpkin time. It's like a vampire bar, but instead of blood-sucking demons, you have like a sneaker store manager, a UPS guy, some servers from area restaurants and a couple gawking tourists. Okay, it's more actually like Cheers, but with real people and a sprinkling of weirdos. But, all in all, nice people who don't fuck with their facial hair too much and don't ask for tastes of the beers on tap or berate the bartender for putting their brew in the wrong kind of glass.
The decor is about what you'd expect. Mostly Hawaii schmaltz with a bunch of schmutz all jammed and taped up to the bar. It is amazing how many beer brands have give-aways and marketing things that are shaped like surf boards, but Point Break seems to have collected them all. Corona and Bud Light. Pacifico and Keystone Light. Just everywhere. And I know this sounds like an absolute nightmare, and it might well be on some nights, but the evening we were there, the classic rock was flowing and the crowd just all seemed to be happy to be there. With each other.
---
12 W 45th St. (bet 5th & 6th Aves)
212/391-8053
---