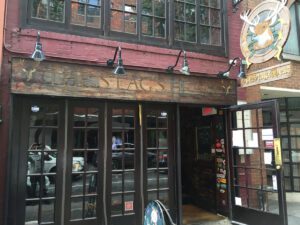 I'm generally a fan of bar-like bars. I mean, I love a dive more than anything, but a close second is a bar that purports to be nothing more than a bar. No gimmicks, no shiny objects, just a joint with some worn wood, a great beer menu and burgers and fries. That is exactly the market The Stag's Head is going for. A restaurant/bar where smaller groups of mostly dudes can gather after work to imbibe brews from a list that includes a variety of American craft drafts and bottles and the lingering ghost of a time when one could smoke a cigarette inside and slouch in a stool for as long as one wanted. There is a definite blueprint for places like this in NYC. Namely beer-heavy bars like Blind Tiger and the now-closed Pony Bar. Stag, tiger, pony. I'm not sure if that's a coincidence, but this is the only one of the three that has heads of its namesake on the walls.
The first couple times I came here, we stood as an oddball work group in the downstairs area, which is clearly not meant for standing. There's room to sit at the bar and some tables in the back-ish part at which to squat, but the space is so kind of skinny and not-skinny at the same time, that you're constantly finding yourself dodging the help and making way for groups trying to get up and down the stairs. It's beyond annoying. So, if you're planning to just drink a couple beers with a buddy or two, you may avoid the squeeze, but definitely don't come here with a gaggle, or you'll find yourself looking — like I did — to throw your weird, craft beer on the next asshole who smacks your pint with his shoulder bag. The last time I came, I did it in style, taking a table upstairs with my small group. Sitting is generally better than standing, and in this case, it was way better than standing. And the space is cozy and wood-laden and sort of rustic in a trying-to-be-rustic way. There are the hand-lettered chalkboards with beers on them and the food was pub food that tasted like pub food and was priced like midtown. I mean $14 for a cheeseburger is pushing it.
So the real issue here is that in its attempt to be low-key and bar-like, Stag's Head slips into anonymity. Its desire to be "just a bar" drains it of any real character and robs it of uniqueness. The space is unremarkable. The beer menu, while decent-ish, isn't inspiring in any particular way. The help, the decor, the neighborhood. Everything just kind of sits there, and all I'm left with is the vague memory of being jostled and sort of uncomfortable two out of three times I walked in the place. Now, it certainly beats your average, generic midtown Irish pub, but it's not necessarily somewhere you'd make a destination unless its location is a convenient meeting place, or you have some overwhelming need to visit every bar in NYC that has an animal in its name.
---
252 E 51st (at 2nd Ave)
212/888-2453
thestagsheadnyc.com
---
View this post on Instagram