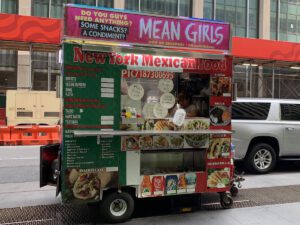 I feel like I've talked about chicken mole more times than I can count. If it's on a menu, it's difficult for me not to order it. Hipster Dad has the same issue with soft-shelled crab. Both proclivities are probably pretty normal, but are not always available or multitudinous. And then I run across this tiny, little cart on 50th Street with most of their menu written on paper plates and taped to the cart's window. And, lo and behold, there sat $8 chicken mole!
Now, eight bucks buys you very little in NYC. You could get like a pack of gum and a water. Or like three quarters of a sandwich at a deli. It turns out the eight-dollar option is a bowl of some sort and that the platter is ten bucks. But it's still a couple clams cheaper than a mostly-lettuce salad at your typical salad joint. And it's mole for heaven's sake!
Whenever ordering from a rolling box like New York Mexican Food, I can't help but wonder how they could possibly cook something good in such a small place. And keep the creepy crawlies from the NYC streets out of it. But I put that thought aside and just dive in. Assuming that if the food was garbage, or they'd poisoned too many people that they'd probably lose whatever license one needs to sell grub out of a wheeled kitchen.
Well, after eating their mole I can happily report that they can both cook really delicious food and managed to not kill me — not even a little bit. Again, keeping my expectations low, I dug into the platter of aromatic chicken, drowned in that rich, chocolatey sauce. Along with Mexican rice and a couple tortillas to help sop up the loveliness. It's all I could do to not just tip the tin directly into my face. Granted, mole is probably one of the messiest things you can eat. The sauce itself can actually momentarily stain your mouth an orange color if you aren't mindful about wiping it away after every forkful. It was hearty and plentiful and everything I could have possibly wanted.
As I write this in the midst of the COVID-19 nonsense, I am mostly sad because I can't walk over to this cart to get another tin of their chicken mole. Honestly, this whole thing didn't hit me until just now. And it took mole to do it.
---
W 50th St. (bet. 6th & 7th Ave.)
718/730-0695
---