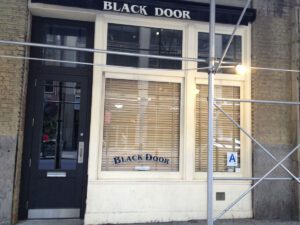 [INDEFINITELY CLOSED]
Sedate and lovely. So go the adjectives related to Black Door. More specifically, Black Door's private party space. Which, to my eyes, doesn't look particularly different than the main bar space. But obviously only entailed gathering with friends and acquaintances and not the riff-raff in the public space. That said, we all know there ain't no riff-raff in this joint. It's not that kind of place. It's "classy" with a small 'c.' And not that much "lassy" or "assy." I guess.
Lighting is an underrated quality. It can certainly make or break your experience in a bar. In a restaurant. In a movie theater. I've eaten great food in a too-bright eatery and recall the experience not as well as the grub itself may have warranted. Just because they kept the house lights a little too high. I've sat in many a Lower East Side bar in near darkness. Sometimes struggling to see my compatriots across a small table, as their faces were blurred by weak candlelight. And, honestly, I don't hate the darkness. But usually it's a matter of necessity, as allowing the customers to see the failing lead paint and moldy taps would probably scare anyone not high on heroine right the hell out of there.
But Black Door puts that all aside. The decor is a little ABC Carpet & Home, a little bit Anthropologie. The lighting doesn't give you impression you're meeting in a showroom, though. It's organic in its softness. A combo of bulbs and candles that kind of casts a haziness that does itself a lot of favors. It gives it a sense of intimacy and a slightly drunken slant that advances the environment. Plus — and this has to be intentional — it's a forgiving light. And they know their audience. This isn't a space inhabited by fresh-faced post-grads, but by an audience with some miles on them. A crowd that probably appreciates a little bit of that Barbara Walters lens that may otherwise erase some of the wear and tear. Smart.
Otherwise, the party space feels grown up. It's simple and has not a single beer sign anywhere! It feels similar to its sibling Park Bar, which is another post-work and neighborhood spot that I used to frequent back in the day when I worked in Union Square. It's low-key, and the almost lack of personality actually serves it well. So while you won't necessarily remember it for anything specific, you may remember it fondly as a place that brings you into its safe, warm bosom. So to speak.
---
127 W 26th St. (btw 6th & 7th Ave.)
212/645-0215
---